Just three weeks since the last release, Permanent Eraser 2.9.0 has been released which focuses on several refinements and improvements for the app on macOS Mojave and Catalina. These resolved issues were discovered during the initial development of 2.9.0 (and subsequent development of 2.8.1). However, several of these issues (such as properly refreshing the progress indicator and preventing the "cannot check for malicious software" Gatekeeper warning on Catalina) required bumping up the minimum system requirements of the app which resulted in Permanent Eraser finally dropping support for PowerPC-based Macs.
For many years, I held off from dropping support for older computers and operating systems, especially since the primary function of Permanent Eraser is to securely erase files on mechanical hard drives, which are not so common these days. That was the primary reason that Apple removed Permanent Eraser from the Mac App Store, because this "could" cause harm to a person's computer, even though Permanent Eraser checks if a file is on an SSD, and if so, only erases the file once. However, changes in macOS Mojave and Catalina finally forced Permanent Eraser to upgrade a bit and drop support for PowerPC, 32-bit Intel (the earliest line of Intel-based Macs), and Mac OS X 10.5 Leopard.
What's new and improved in Permanent Eraser 2.9.0:
Fixed progress indicator refreshing issue on macOS Mojave and Catalina.
Fully Intel 64-bit, no longer runs on PowerPC or 32-bit systems.
Adheres to Gatekeeper requirements on macOS Catalina.
Tested on macOS Big Sur Beta 1 for potential issues.
Note: Now requires Mac OS X 10.6 Snow Leopard or later.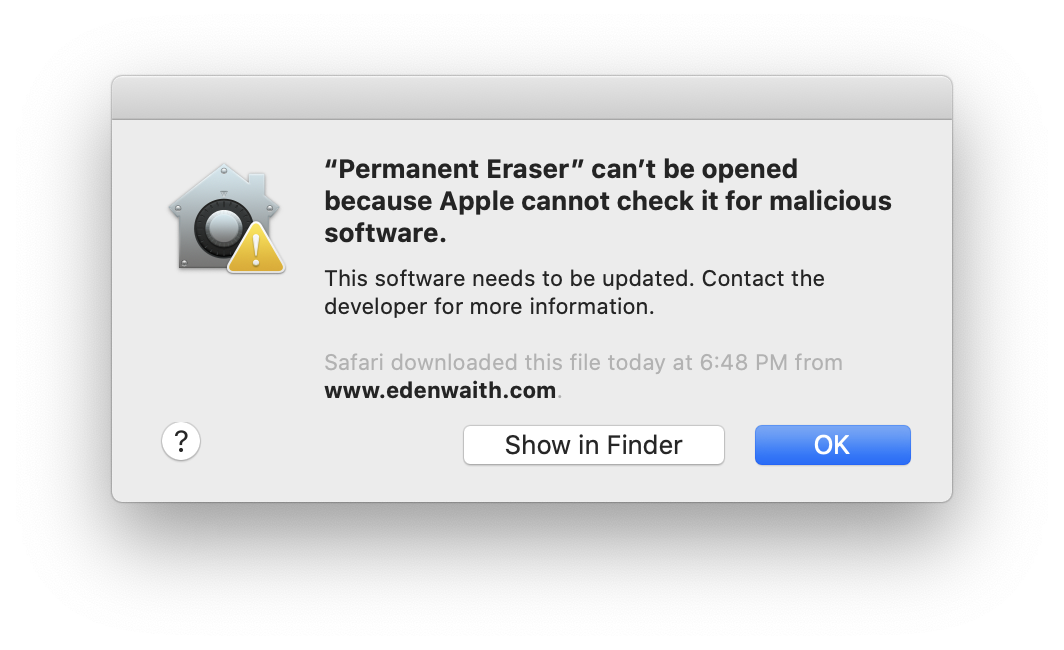 As mentioned in the release for Permanent Eraser 2.8.1, Gatekeeper on macOS Catalina was throwing an invalid warning error that said that Apple could not check Permanent Eraser for malicious software. This is the type of message I'd expect if Permanent Eraser had not been properly code signed and notarized, but Permanent Eraser 2.8.1 had both of those in place. Fortunately, with Permanent Eraser 2.9.0, this error went away. My assumption is that dropping support for PowerPC and 32-bit Intel corrected this particular problem. Despite Permanent Eraser being removed from the Mac App Store (MAS), the previous attempt to submit Permanent Eraser 2.8.1 to MAS did clue me in that Apple only wants 64-bit software now, no legacy software. This might be due to Intel will soon be the new legacy as Apple announced at WWDC 2020 that it will be switching Macs over to their own custom Arm-based processors, currently dubbed Apple Silicon.
Fifteen years ago we saw Apple begin the process to migrate from PowerPC processors to Intel. We are seeing the same song and dance, and even a lot of the same actors, such as Rosetta, coming back onto the scene. Will Permanent Eraser run natively on Apple Silicon? For the current iteration of Permanent Eraser, the answer is likely 'no'. I would not be surprised if all Arm-based Macs going forward will only be equipped with SSDs, and if this does occur, then there is little reason for Permanent Eraser 2 to support these particular Macs. However, Permanent Eraser 3 will likely support Intel and Arm-based Macs.
I did a little preliminary testing of Permanent Eraser 2.9.0 on the first beta of the next version of macOS: Big Sur. As should be expected with any beta, it has its rough edges, and I encountered a couple of areas which did not look correct.
The icons in the Preferences toolbar did not display: I'm not certain if this is a change in using glyphs for the OS iconography, or an issue with the app that will need to be updated to adhere to the new style.
The plug-in does not work and claims there is an issue with one of the Automator actions: Once again, this might be an issue with Big Sur being in beta. I will need to check with a later version of Big Sur to determine if Permanent Eraser will need to be updated or if this is a beta issue.
Considering there could be some potential issues with Permanent Eraser and macOS Big Sur, a patch release could still be in the future before Permanent Eraser 3 is released. But for now, Permanent Eraser 2.9.0 address the most egregious of issues encountered with macOS Mojave and Catalina.
Update - 18 July 2020
Permanent Eraser 2.9.1 has been released to address an occasional crash which could occur when erasing the Trash on macOS Mojave.
References