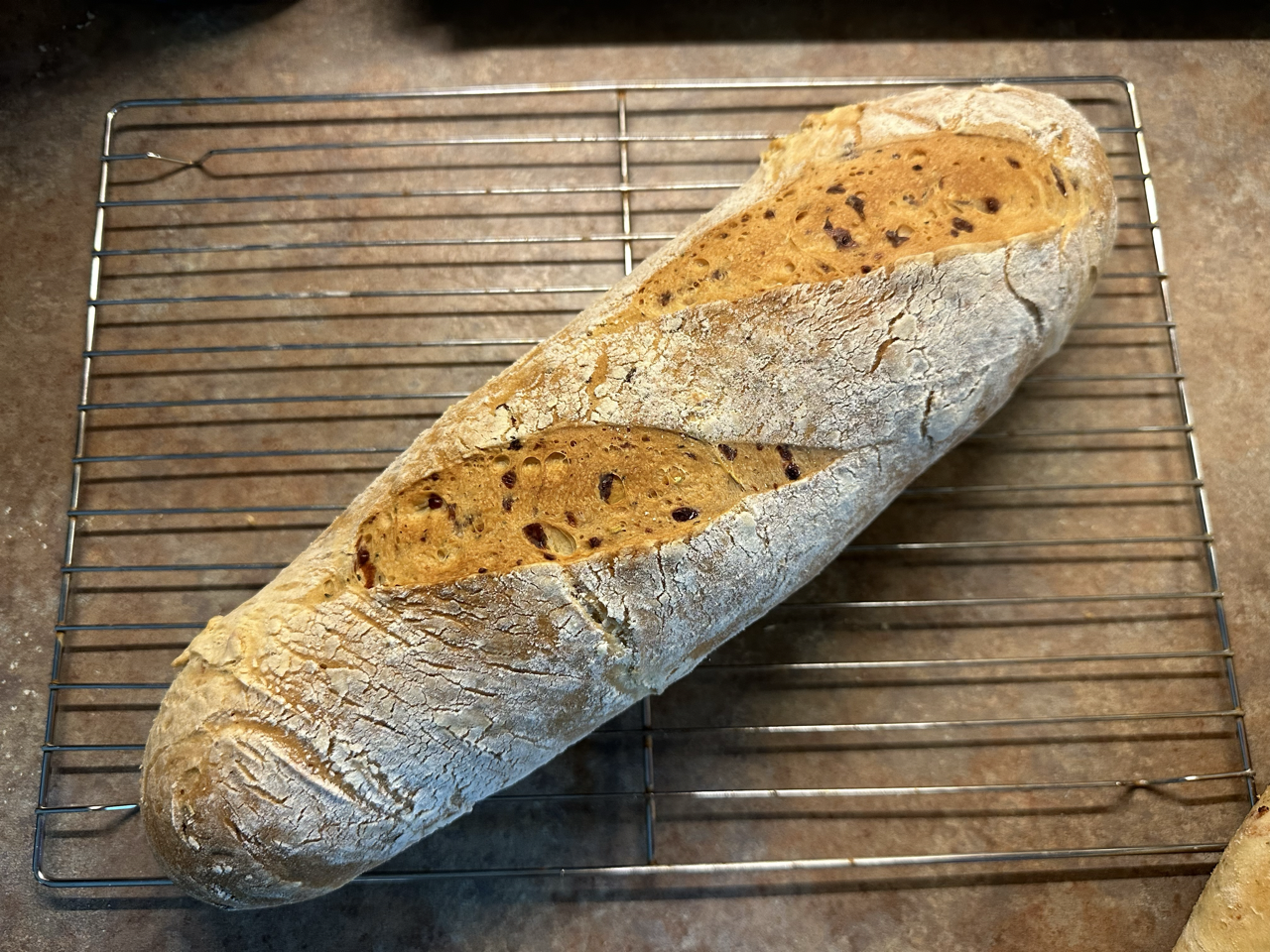 I've baked dozens of types of breads, and this one still remains my favorite. Even before you bake the bread, it will make your kitchen smell amazing. Share and enjoy.
Ingredients
1 tablespoon dry yeast
2 cups warm water (110-115°F / 45°C)
2 tablespoons sugar
¼ cup olive oil (50g)
1 tablespoon sea salt
½ tablespoon dried basil
½ tablespoon dried oregano
½ tablespoon dried thyme
½ tablespoon dried rosemary
1 teaspoon garlic powder
1 teaspoon onion powder
½ cup Italian cheese
5-6 cups King Arthur bread flour (750g)
Directions
Mix yeast, warm water and sugar together in a large bowl.
Set aside for five minutes, or until the mixture becomes foamy.
Stir in olive oil, salt, herbs, garlic powder, onion powder, cheese and 3 cups flour into the yeast mixture. (Note: if you are using fresh herbs, instead of dried ones, double the amount from ½ to 1 tablespoon.)
Gradually mix in the next 2-3 cups of flour. Dough will be stiff. If the dough is still wet and sticky, gradually add one tablespoon of flour to the mixture.
Knead for 5 to 10 minutes, or until it is smooth and elastic.
Place in an oiled bowl, turning to cover the sides with oil.
Cover with a damp linen towel or greased plastic wrap.
Let the dough rise for 1 hour or until dough has doubled.
Punch down to release all the air.
Shape into two loaves. I like to roll the dough out into a 12" x 6" rectangle and then roll them up to form the loaves.
Place loaves on a pizza stone with parchment paper, a greased cookie sheet with cornmeal, a baguette pan, or into two 9x5 inch, greased pans.
Allow to rise for ½ hour again, until doubled in a warm place.
Score the loaves with a sharp knife or lame.
Spray the oven and the loaves with water if you want a little crispier crust.
Bake at 375°F (190°C) for 35 minutes.
Remove loaves from the oven and let them cool on wire racks for at least 15 minutes (ideally an hour) before slicing.