Welcome...
Welcome to the fifth incarnation of this website, dedicated to musical artistry of Uli Jon Roth.
What you see here is the culmination of the past seven years of work to redesign this site for the 21st century. The previous version was designed in June 2001, supporting the web browsers of the day, such as Netscape 4 and IE 5. The Web has evolved over the past decade, and while the old site lived well past its years, the time has finally come to usher in a new version.
This site redesign cleaned out a lot of cobwebs, and uncovered a few hidden treasures along the way. Look around, explore, and enjoy. Here's what is new:
Brand new site design, built from the ground up
15+ new tablatures
6+ updated tablatures
New articles
New photos
Updated equipment list
Who Is He?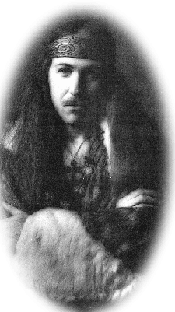 Uli Jon Roth (a.k.a. Ulrich Roth) is a German-born virtuoso guitarist who has been in bands such as Scorpions, Electric Sun, and Sky of Avalon. While maintaining a cult status, he has influenced and inspired the likes of other great guitarists such as Eddie Van Halen, Axel Rudi Pell, Kirk Hammett, and Yngwie Malmsteen.
He played with Scorpions in the mid-70's for 5 years, recording 4 studio albums and 1 live album. After departing from Scorpions, he went to form his own band Electric Sun and recorded three albums. During this period, Uli developed the unique Sky Guitar, which would allow him to pursue a his dreams of playing notes on a guitar generally played in the violin-register. He then disappeared from the music scene for more than 10 years before coming back with a new band called Sky of Avalon, which resulted in Roth's departure from Rock N' Roll and embracing a more classically-oriented sound. In 2000 he released the unique album Transcendental Sky Guitar, which displays his virtuosity and appreciation for both rock and classical music. He continued his classical experiments with his rendition of Vivaldi's Four Seasons, titled Metamorphosis and then followed up with Symphonic Legend Volume Number I - Under A Dark Sky.
The past several years have been dedicated to touring, Sky Academy seminars, and revisiting his days with the Scorpions by releasing Scorpions Revisited and Tokyo Tapes Revisited.
Intro to Uli Jon Roth's Music
For one new to Uli Jon Roth's music, they might ask, "Where should I start?" Uli's career can be split into three eras: Scorpions, Electric Sun, and Uli Jon Roth. The Scorpions period extends from 1973 through 1978 when he was a guitarist for the German band Scorpions. Electric Sun was the band he formed after leaving Scorpions, which came out with three albums. The third era simply dubbed Uli Jon Roth represents his work after the Electric Sun albums. Below are suggested albums to start listening to, to become more familiar with Uli Jon Roth's music.
Era I - Scorpions : Virgin Killer - This became Uli's signature album, considering he wrote over half of it with songs like "Virgin Killer", "Hell Cat", "Yellow Raven", and the immortal "Polar Nights".
Era II - Electric Sun : Firewind - Quite possibly the most commercially accessible of the three Electric Sun albums, it comes ladened with such tasty cuts like "Cast Away Your Chains", "Firewind", "Indian Dawn", and "Hiroshima".
Era III - Transcendental Sky Guitar - If there is any one album which wraps Uli up in a nutshell, it would be this one. It covers such a wide variety of music from his own compositions, to many classical covers (Mozart, Chopin, Bach), and even a couple Hendrix covers.
Current News