Welcome...
Welcome to the fifth incarnation of this website, dedicated to musical artistry of Uli Jon Roth.
What you see here is the culmination of the past seven years of work to redesign this site for the 21st century. The previous version was designed in June 2001, supporting the web browsers of the day, such as Netscape 4 and IE 5. The Web has evolved over the past decade, and while the old site lived well past its years, the time has finally come to usher in a new version.
This site redesign cleaned out a lot of cobwebs, and uncovered a few hidden treasures along the way. Look around, explore, and enjoy. Here's what is new:
Brand new site design, built from the ground up
15+ new tablatures
6+ updated tablatures
New articles
New photos
Updated equipment list
Who Is He?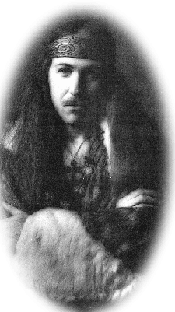 Uli Jon Roth (a.k.a. Ulrich Roth) is a German-born virtuoso guitarist who has been in bands such as Scorpions, Electric Sun, and Sky of Avalon. While maintaining a cult status, he has influenced and inspired the likes of other great guitarists such as Eddie Van Halen, Axel Rudi Pell, Kirk Hammett, and Yngwie Malmsteen.
He played with Scorpions in the mid-70's for 5 years, recording 4 studio albums and 1 live album. After departing from Scorpions, he went to form his own band Electric Sun and recorded three albums. During this period, Uli developed the unique Sky Guitar, which would allow him to pursue a his dreams of playing notes on a guitar generally played in the violin-register. He then disappeared from the music scene for more than 10 years before coming back with a new band called Sky of Avalon, which resulted in Roth's departure from Rock N' Roll and embracing a more classically-oriented sound. In 2000 he released the unique album Transcendental Sky Guitar, which displays his virtuosity and appreciation for both rock and classical music. He continued his classical experiments with his rendition of Vivaldi's Four Seasons, titled Metamorphosis and then followed up with Symphonic Legend Volume Number I - Under A Dark Sky.
The past several years have been dedicated to touring, Sky Academy seminars, and revisiting his days with the Scorpions by releasing Scorpions Revisited and Tokyo Tapes Revisited.
Intro to Uli Jon Roth's Music
For one new to Uli Jon Roth's music, they might ask, "Where should I start?" Uli's career can be split into three eras: Scorpions, Electric Sun, and Uli Jon Roth. The Scorpions period extends from 1973 through 1978 when he was a guitarist for the German band Scorpions. Electric Sun was the band he formed after leaving Scorpions, which came out with three albums. The third era simply dubbed Uli Jon Roth represents his work after the Electric Sun albums. Below are suggested albums to start listening to, to become more familiar with Uli Jon Roth's music.
Era I - Scorpions : Virgin Killer - This became Uli's signature album, considering he wrote over half of it with songs like "Virgin Killer", "Hell Cat", "Yellow Raven", and the immortal "Polar Nights".
Era II - Electric Sun : Firewind - Quite possibly the most commercially accessible of the three Electric Sun albums, it comes ladened with such tasty cuts like "Cast Away Your Chains", "Firewind", "Indian Dawn", and "Hiroshima".
Era III - Transcendental Sky Guitar - If there is any one album which wraps Uli up in a nutshell, it would be this one. It covers such a wide variety of music from his own compositions, to many classical covers (Mozart, Chopin, Bach), and even a couple Hendrix covers.
Current News
4 July 2018
There's some good news and bad news in regard to Uli's North American tour for 2018. The bad news is that due to the delay in securing work visas in time, the summer tour had to be postponed. The silver lining to this dark cloud is that it gives Uli time to record some music. Below is Uli's Facebook post on the difficulties in obtaining their visas.
Dear Friends,

We're very sorry, but our Tour of North America will have to be postponed now until a later date.

We are forced to do this, because our work Visas unfortunately didn't get issued on time to do this tour. As soon as we have the Visas cleared we will set up replacement dates and will keep you posted. All VIP passes will remain valid indefinitely until we get to play these shows. We hope that your schedule allows you to attend these new dates!

We were all really looking forward to playing this special Triple Anniversary program for you! But I promise we will make this happen as soon as possible.

The Visa situation has been getting worse year after year in recent times and this makes it very difficult for foreign artists to perform in the US now. The same thing is currently happening to a lot of other artists, too, and several tours like ours had to be cancelled last minute at great expense to the bands and their American partners.
We were told, the percentage of work Visas to the US not being issued on time has suddenly increased by 1400 % (!!!) since February this year… If this is true, this figure speaks for itself. It seems, now for the first time, we are caught out by this, too. (There was a Visa delay on a tour with Yngwie in 2014 which resulted in a cancellation for me, but that was because of technical reasons and the Visa was not denied.)

We have played everything by the book, applied as early as we could, paid to have our Visas expedited, employed the best immigration attorneys, have moved mountains, jumped through a veritable amount of hoops and STILL got delayed this year so far! …

We are confident that the Visas will come through sooner or later, but until then we must be patient and move on to other things. I know that some of you had already booked flights and hotels, which must be very disappointing and annoying. I'm truly sorry for the inconvenience this may have caused you!

Please keep your fingers crossed that we receive the work Visas soon!
Stay tuned!

Your friend
Uli
Fortunately, he was able to get his work visa, so the tour dates will be rescheduled for later in the year. Keep an eye on the official tour dates page to check for the new concerts.
5 March 2017
Uli has kept himself busy with touring during the past several years, and this year has been no exception as he is touring to support his new live album Tokyo Tapes Revisited. Last night, Uli played at the Arcada Theater in St. Charles, Illinois, USA for the third time. The accompanying acts were Frank DiMino and Graham Bonnet. I'm not familiar with Frank DiMino or the band Angel, but he was most lively and played around 45 minutes to warm up the crowd. Graham Bonnet was up next and played for about an hour. He is far from being a spring chicken, but he was still quite spry on stage and still has the power in his voice. I would say he is the Humphrey Bogart of vocalists — he only has one style, but what he does, he does very, very well. (Side note: I love Bogart, so this is not a criticism. Graham Bonnet sounded great.) Graham did an excellent job introducing each song, and often added a little banter between songs, including joking about not playing "Since You've Been Gone". The following is the setlist for the Graham Bonnet Band:
Eyes of the World
All Night Long
S.O.S.
God Blessed Video
Will You Be Home Tonight?
Into The Night
Night Games
Jet to Jet
Island In The Sun
Since You've Been Gone
Assault Attack
Lost In Holywood
For Uli's set, one thing which was different was the singer/guitarist Niklas Turmann was playing bass guitar instead of rhythm guitar, but it was later revealed that Dean Guitars CEO Elliot Rubinson was originally slated to play bass again, but Rubinson sadly passed away this past February. Highlights of this concert were hearing live versions of "Just Another Rainbow" and "Yellow Raven". Upon hearing live renditions of songs like "Hell Cat" or "Just Another Rainbow", one can certainly hear the Jimi Hendrix influence which snuck through during Uli's earlier albums. Uli Jon Roth's setlist:
All Night Long
Longing For Fire
The Sails of Charon
Sun In My Hand
Just Another Rainbow
We'll Burn The Sky (Dedicated to Elliot Rubinson)
In Trance
Rainbow Prelude
Fly To The Rainbow
Hell Cat
Dark Lady
Yellow Raven
Pictured Life
Catch Your Train
All Along the Watchtower
Little Wing
10 January 2017
A decade after it's release, I have finally added the compilation album The Best of Uli Jon Roth to this site's discography. This is an album I had (oddly) held off from purchasing for many years since this album did not offer much that was new besides the slightly modified version of Enola Gay - Hiroshima Today?, a song I had already purchased online. This album does display an interesting collection of Uli's post-Scorpions material, which has been grouped into similar arrangements. There are a couple of interesting items to note about this album. The cover of this album was taken from a photo from a House of Blues concert in Chicago from 11 September 2004. For me, this is quite exciting since I was at that very concert.
Of even more interest are the comprehensive linear notes which make reference to a fourth Electric Sun album which was never recorded. Back in 2005 I had made a joking reference to a secret fourth Electric Sun album, and had compiled a list of nine songs which could have appeared on this spectral album. The beautiful ballad Starlight was one of these potential songs. This song was written in late 1984, after the recording of Beyond the Astral Skies, but it was later played on that same tour, along with other unrecorded songs such as On That Night, God Is Light and Daughter of the Evening Sun.
1 January 2017
In 2016, the new live album Tokyo Tapes Revisited was released, which includes both CD and Blu-Ray.
All Night Long 4:49
Longing For Fire 3:23
Crying Days 5:43
The Sails of Charon 10:07
Sun In My Hand 5:10
Virgin Killer 4:40
Kojo No Tsuki 5:22
We'll Burn the Sky 8:54
In Trance 7:51
Rainbow Dream Prelude 8:37
Fly to the Rainbow 10:56
Top of the Bill 4:38
I've Got To Be Free 11:45
Polar Nights 10:09
Dark Lady 15:11
Pictured Life 3:05
Catch Your Train 4:41
All Along the Watchtower 7:56
Little Wing 8:24
Uli will be touring in support of the new album this year.
On a side note, this site will be turning 20 years old this year, which is practically an eon as measured in Internet time.
29 January 2015
Despite what one article mentioned, Uli's newest album Scorpions Revisited is already available (at least through digital channels). If you have been fortunate enough to have seen Uli on tour in the past few years, this album captures the magic of his performances, which is capped off by a beautiful and cosmic version of "Fly to the Rainbow" which has an almost Pink Floyd edge to it.
Uli was also on the December 2014 cover of Young Guitar magazine, which is filled with tons of great Scorpions riffs, plus a full transcription of "Catch Your Train". If you are a guitarist, it is well worth it to try and get a copy.